FLAAR has PowerPoint presentations available on
advanced digital photography in general
digital photography for archaeological projects
scanning and scanners for digitalization and archiving projects
printing on architectural materials (UV-cured flatbed printers)
how to select the best printer for your needs
digital imaging for museums
fine art photography
giclee and decor
Lectures for universities
PowerPoint lectures are available for
Technology departments
Print media and print shop management programs
Photography classes, programs, or departments
Art departments
Art history, architectural history
Anthropology, archaeology
Ethno-botany courses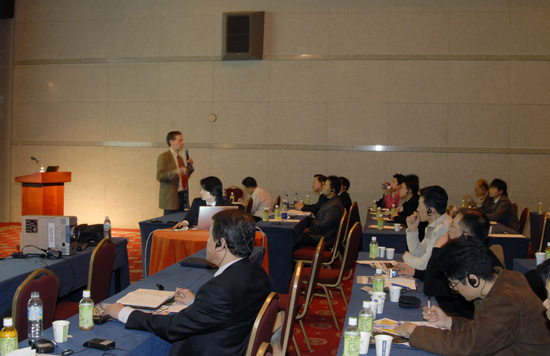 We also offer consulting services

Lectures for museums
We come from the world of museums so it is natural that we enjoy giving public lectures at Museums. FLAAR has been asked for lectures at museums in Tokyo, Oaxaca (Mexico), Guatemala City (both the national museum and at the Museo Popol Vuh), St Louis Art Museum, St Louis Historical Society, Dallas Museum of Fine Arts, Denver Art Museum, etc.

Lectures for trade shows
FLAAR has been invited to speak at trade shows in
GraphExpo, Chicago, every year going on three years now.
Sign Africa 2008.
FESPA Mexico 2008.
Twice at different trade shows in Istanbul.
Gulf Print ( Dubai, 2007).
Lectures for conferences
Dr Hellmuth has been keynote speaker as well as a regular speaker at conferences and workshops.
Lectures for printer manufacturers and/or distributors
Nicholas gave the presentation lecture for the new Mimaki UV flatbed printer two days in a row when this new technology was introduced in Europe (December 2006).
FLAAR was the featured speaker in Seoul, Korea for the launch of the IP&I Cube 1606S and 1606F UV-curable combo style flatbed printers.
Dr Hellmuth is also occasionally asked to lecture by manufacturers for their distributors and dealers, to introduce their new printers, new software, or new features. These are generally private, and often under NDA (confidentiality agreement), since these meetings often discuss next year's technology that has not yet been formally announced.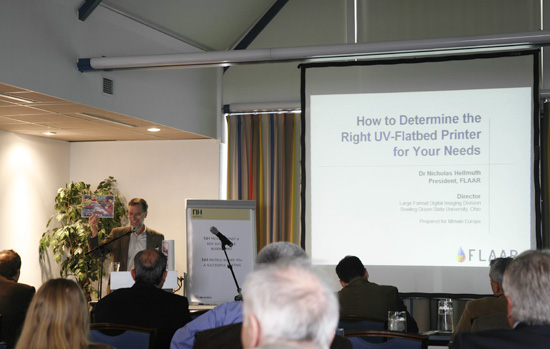 Workshops
We have organized workshops in Cincinnati and one in Seoul, Korea. We did a three-day workshop in Athens, Greece. Also, the FLAAR workshop in Novosibirsk, Russia. Novosibirsk translates as "New Siberia".
You can download any workshop PDF.
During five years at Brevard Community College we had a Maya archaeology symposium every year. This attracted people from all over the US, from Japan, and Europe.
Contact Us
To book Dr Hellmuth for your next event, e-mail This e-mail address is being protected from spambots. You need JavaScript enabled to view it . If no answer, telephone the FLAAR office at 1 419 823-9218 and ask to speak with Flor Setina.
Consulting Reports

| | |
| --- | --- |
| | |
| Consulting for giclee, decor, fine art photography and scanning. (FREE Download) | For all wide-format inkjet printers, RIP, Ink & Substrates. (FREE Download) |

Consulting for UV printer manufacturers, available to manufacturers only: ink, media, substrate, scanner, RIP software, printer manufacturers, integrators, parts manufacturers, please request this by e-mail from This e-mail address is being protected from spambots. You need JavaScript enabled to view it
To obtain this PDF on consulting services for financial analysts and
business strategy consultants, please request this by e-mail from This e-mail address is being protected from spambots. You need JavaScript enabled to view it