Printer & Signage Trade Shows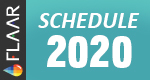 which we have found are worth attending
A decade ago we attended expos literally around the world, an average of over 200,000 kilometers flights every year. Half of these expos no longer exist and we prefer to focus on the most interesting printer, signage, and visual communications expos. So for 2020 here is our list:
ISA sign expo, March 02, 03, 04, 2020
Because this is the first large signage and wide-format inkjet printer expo of the year for all of North America, we are sending four from FLAAR Reports to ISA 2020. A decade ago Graphics of the Americas was the first major expo of the year, in Miami, but the Miami convention center closed for a year or two and just before that the former head of GoA returned. Unfortunately GoA has not survived either of these aspects nor the fact that once they left Miami more than half their Spanish-speaking clients switched to ISA or SGIA. When I attend ISA and SGIA I hear Spanish being spoken in ever aisle.
Since there are signage and printer expos all around the world, we would not waste time (and money) sending this large a team if the expo was not worthwhile.
Printers (UV cured, latex, textile, water-based) are the main focus.
Inks, especially after-market inks are crucial to learn about.
Media and printable substrates are worth learning about: there is far more than just PVC vinyl. For example, we will be searching to see if any booths are offering PE, as an eco-friendly alternative to vinyl.
Plus it is crucial to learn the trends: what kinds of inks are no longer popular?
What brands of printers are no longer being manufactured?
What distributors are growing (compared with which distributors are no longer having a booth).
If a manufacturer or distributor is no longer exhibiting, how can you get tech support? And what about the re-sale value of your printer (if this brand is no longer manufactured)?
So attending ISA 2020 is a good investment. We hope to see you there, Booth 416, though most of us will be in the aisles and evaluating printers, inks, media, coaters, laminators, cutters, and software throughout the halls.
The FLAAR-REPORTS team will also be at:
2020
January 2020
Jan. 12 - 14 : SGI Dubai 2020, Sign Middle East, Dubai, UAE. www.signmiddleeast.com
March 2020
Mar. 04 - 07: APPPEXPO 2020, Shanghai, China. www.apppexpo.com
Mar. 24 - 27: FESPA 2020, Spain, Madrid. www.fespaglobalprintexpo.com
April 2020
Apr. 02 - 04: ISA Sign Expo, Orlando, Florida, USA. www.signexpo.org
May 2020
May. 27 - 30: Photokina 2020, Cologne, Germany. www.photokina.com
September 2020
Sep. 17 - 20: SIGN Istanbul 2020, Istanbul, Turkey. https://en.signistanbul.com
Sep. 24 - 26: FESPA Mexico 2020, CDMX, Mexico. https://mexico.fespa.com
October 2020
Oct. 21 - 23: Printing United 2020, Atlanta, Georgia, USA. www.printingunited.com
 
Dr Hellmuth attended the Shanghai sign printing trade show in March 2018. This is the largest event in China and made it possible to see all Chinese solvent printers and all Chinese UV printers in one venue. Only about 20% of Chinese manufacturers exhibit in Europe or the US (because the other companies either have no distribution channel or their printers won't hold up to expected standards outside China).
In 2007 FLAAR has visited the factories, demo room, world headquarters, R&D facilities of Durst (both Lienz and Brixen), GRAPO (Czech Republic), L&P (both headquarters in US and Spuhl Virtu in Switzerland), ISI (manufactures UV printers for Raster and others), two days at Gandinnovations factory and demo room, etc (list is too long to remember). The purpose of all this is to bring a level of documentation that is missing elsewhere.
 
Professor Nicholas Hellmuth is available to lecture in your hometown anywhere in the world. He can present PowerPoint presentations on digital photography as a means to explore Maya art, UV-cured flatbed printer reviews, fine art giclee, fine art photography, Mayan ethno-botany, photographing ancient architecture in Guatemala, and other topics.

An example of a year with Dr Nicholas, he lectured in Athens, Amsterdam, Ljubljana, Zagreb, Novosibirsk, Seoul, Dubai, Cincinnati, etc. His next lecture will be in August at FESPA Mexico. If you wish him to lecture in your city contact, This e-mail address is being protected from spambots. You need JavaScript enabled to view it .

Dr Hellmuth will be lecturing (in 2008) in South Africa, Melbourne, Sydney, Auckland, and at the FOGRA conference in Munich, as well as in St Louis and Chicago. For 2015 he will start the year in Dubai (SGI, Sign Middle East) and then will be lecturing at Graphics of the Americas 2015 in Miami (GoA).
FLAAR in Guatemala:
Nicholas was already in Guatemala. He and project manager Eduardo Sacayon took part in several projects:
A botanical and ethno-botanical project to find and photograph specific trees that were sacred to the Maya people. Of particular interest was the "Nikte" flower. Fortunately May was the month this species blooms, so they got some good photographs. It is ironic that this is the same flower that is used for the lei in Hawaii. These plants were transplanted to Hawaii in the last century.
The second project was to study metamorphosis in butterflies, using the garden around the FLAAR office as the test area. An entomologist from the local university came to take samples of butterfly cocoons which were being eaten by parasitic wasp larvae. A butterfly is part of the logo of FLAAR in part because this insect was pictured frequently in the incense burner lids of Tiquisate, a colonial area of the extension of the Teotihuacan empire in the 4th-6th centuries A.D.
A third project that is beginning is to identify which beetle or cockroach-like insect is the bug commonly pictured on Tepeu 1 (Late Classic) Maya bowls from the Peten area. Nicholas and Eduardo (who is a trained biologist working with FLAAR for many years) visited the leading university reference collection of these insects in Guatemala. We hope to photograph the collection.
All these projects bring to bear our experience in evaluating digital imaging hardware and software.
Upcoming Evaluations:
In past years several companies have provided digital camera backs for us to evaluate.
These are the cameras that we recommend for museum photography, and for field photography by archaeologists, botanists, zoologists, and geologists. One of the many long-time projects of FLAAR has been to find out what equipment is best, by actually using it ourselves. Most professors don't have time to experiment with a wide range of equipment.
We have evaluated Kodak, Phase One, Leaf, and Hasselblad digital backs over the last ten years.
FLAAR evaluates the entire workflow: from digitization through RIP and printing to finishing
FLAAR evaluates digital cameras, 3D scanning (6to5 at Dr Wirth company), and all forms of digitization. We had a Cruse scanner for many years and are now considering a Metis scanner (so as a consultant we can suggest pros and cons of each of these brands).
In addition to printers we also evaluate XY flatbed cutters, CNC routers, lamination equipment, RIP software, etc. Although most of our readers seek information for basic signage, FLAAR itself is primarily dedicated to how to improve museum exhibits, museum signage, and related aspects of botanical gardens, zoos, and national parks (archaeological sites). So all of these aspects of digital imaging are as crucial for anthropologists, archaeologists, botanists, geologists, zoologists and museum curators as they are for print shops around the world.
| | |
| --- | --- |
| | |
| Nicholas Hellmuth photographing the Cacao fruit with the Phase One digital camera, located in Suchitepequez, Chocolá. | Here is Dr. Hellmuth holding a sample printed by the DEC Legend 72HUV at their demo room 2008. |
 

FLAAR provides consulting services at each international trade show. But time to speak with Dr Nicholas must be booked, and invoiced, in advance. Write FrontDesk "at" FLAAR.org to check whether time is still available in his 2020 schedule.

We work with theme parks, zoological gardens, research stations; two of our exhibits of high-res photographs of sacred Maya flowers and trees has been at MOBOT in St Louis over the recent three years.

Our institute is growing and we are now providing consulting services for cacao (cocoa, chocolate), for amusement parks (who might want a Maya-themed event or area). We are consultants for wide-format inkjet printer companies literally around the world.

Below is our schedule of wide-format printer trade shows for 2010 through 2019.

Sep. 19 - 22: SIGN Istanbul (Istanbul, Turkey)November 2017Nov. 27 - 30: Shanghaitex (Shanghai)
2019

January 2014
Jan. 13 - 15 : SGI 2019 (Dubai)
March 2018
Mar. 04 - 07: APPPEXPO (Shanghai, China)
April 2018
Apr. 24 - 26: ISA (Las Vegas, NV)
May 2018
May. 14 - 17: FESPA Global Print Expo (München, Germany)
September 2018
Sep. 11 - 13: SIGN Africa/ FESPA Africa
(Johannesburg, South Africa, Germany)
October 2018
Oct. 18 - 20: Printing United - SGIA (Dallas, TX)

2018

January 2014
Jan. 14 - 16 : SGI 2018 (Dubai)
March 2018
Mar. 22 - 24: ISA (Orlando, Florida)
Mar. 28 - 31: APPPEXPO (Shanghai)
May 2018
May. 15 - 18: FESPA Europa (Germany)
September 2018
Sep. 12 - 14: FESPA Africa (SA), We'll miss to see our friends from the tradeshow but we are not attendig this year.
Sep. 20 - 23: Sign Istanbul (Turkey)
Sep. 20 - 22: FESPA (Mexico)
Sep. 26 - 29: Photokina (Cologne)
October 2018
Oct. 18 - 20: SGIA, This year will take place at Las Vegas, NV. We are very sorry we are not attending the show.

2017

January 2017
Jan. 15 - 17 : SGI 2017 (Dubai)
March 2017
Mar. 08 - 11: APPPEXPO (Shanghai)
April 2017
Apr. 19 - 22: ISA (Las Vegas, NV)
May 2017
May. 08 - 12: FESPA Europe (Hamburg)
September 2017
Sep. 13 - 15: FESPA Africa (Johannesburg)
October 2017
Oct. 04 - 08: SIGN Istanbul (Turkey)
Oct. 10 - 12: SGIA (New Orleans)

2016

January 2016
Jan. 10 - 12 : First international status sign & printer expo of the entire year.
SGI 2016 (Dubai)
February 2016
Feb. 18 - 20 : FLAAR has been invited to lecture here (in Spanish and in English) every year so we always attend.
GoA 2016 (Miami)
March 2016
Mar. 08 - 11:Same days as APPPEXPO and APPPEXPO is 200% larger.
FESPA (Amsterdam)
FESPA in EU is one of the better expos of the world, but with APPPEXPO on one side and DRUPA on the other, it's a tough year.)
Mar. 09 - 12: Bigger than all EU and all USA sign and printer expos put together.
APPPEXPO (Shanghai)
April 2016
Apr. 20 - 23: Definitely worth attending.
ISA (Orlando)
July 2016
Jul. 24 - 28
SIGGRAPH (California)
August 2016
Aug. 18 - 20
FESPA (México)
September 2016
Sep. 07 - 09:
Africa Print/FESPA Africa (SA)
Sep. : We really enjoy attending Sign Istanbul every year
Sign Istanbul (Turkey)
Sep. 20 - 23: Best glass printer expo in the world.
Glasstec (Duesseldorf)
Sep. 20 - 25: Best digital camera equipment expo in the world
Photokina (Cologne)
Sep. 26 - 30: Best ceramic printer expo in the world for brands made all over the world except in China. For Chinese ceramic printers you need to go to a Chinese expo.
Tecnargilla (Rimini, Italy)
October 2016
Oct. 21-25: ShanghaiTex had more printers than ITMA Asia several years ago, but ITMA Asia is otherwise okay. Not sure if we will attend since ITMA in Milano is plenty.
ITMA Asia + CITME (Shanghai)
2016
Would consider if our team was hosted.
FESPA Eurasia (Turkey)

2015

January 2015
Jan. 11 - 13 : SGI (Dubai), this is the first international signage and printer expo. Three of us from FLAAR will be here. A nice safe city as venue.
February 2015
Feb. 26 - 28 : GOA (Miami). Dr Hellmuth will give several lectures, in Spanish and others in English.
March 2015
Mar. 6 - 9: D-PES (Guangzhou)
Mar. 11 - 14 : APPPEXPO (Shanghai)
April 2015
Apr. 9 - 11: ISA International Sign Expo (Las Vegas)
May 2015
May. 18 - 22 : Fespa (Köln)
June 2015
Jun. 1 - 4: Ceramics China (Guangzhou). Research on printing and inks for architectural tiles (floor and wall tiles).
Jun. 15 - 18 : ShanghaiTEX, to study printers, inks, and color management for printing on fabrics
July 2015
Jul. 22 - 24 : AFRICA Print/FESPA Africa, Johannesburg
September 2015
Sep. 10 - 13 : Sign Istanbul (Turkey)
November 2015
Nov. 4 - 6: SGIA (Atlanta)
Nov. 12 - 19 : ITMA Europe (Milan), to study printers, inks, and color management for printing on fabrics.

2014

January 2014
Jan. 7-9 : Dubai (SGI)
February 2014
Feb. 21 - 24: D-PES (Guangzhou)
Feb. 23 - 26 : SignChina (Guangzhou)
March 2014
Mar. 27 - 1: GOA (Orlando)
Aplir 2014
Mar. 31 - Apr 3:Ceramics China (Guangzhou)
Apr. 22 - 26: ISA (Orlando)
May 2014
May. 20 - 23: FESPA (Munich)
June 2014
Jun. 17 - 20:Â IDPEX (Iran)
Jun 16 - 20 : ITMA Asia + CITME
July 2014
Jul. 3 - 6: APPPEXPO (Shanghai)
Jul 15 - 18 : Panamá Expo Gráfica (Panamá)
August 2014
Aug 21 - 23: FESPA (México )

September 2014

Sep 11 - 14 :Sign Istanbul (Turkey)
Sep 16 - 21 : Photokina (Cologne) Germany
Sep 22 - 26 :Tecnargilla (Rimini) Italy

October 2014

Sep 28 - Oct 1 : PRINT (GraphExpo) Chicago
Oct 21 - Oct 23 : GLASSTEC (Düsseldorf ) Germany

Oct 22 - Oct 24 : SGIA (Las Vegas)

November 2014
Nov. 17-21 : IAAPA (Orlando)

2013

January 2013
Jan. 20 - 22: Sign and Graphic Imaging Middle East in Dubai
February 2013
Feb. 21 - 23: GoA, Graphics of Americas in Orlando, FL
Feb. 25 - 28: D-PES in Guanzhou, China
March 2013
Mar. 1 - 4: Sign China in Guanzhou, China
April 2013
Apr. 3 - 6: ISA Sign Expo, Las Vegas, NV
May 2013
May. 21 - 25: PacPrint 2013 in Melbourne, Australia
May. 29 - Jun - 1: Ceramics China 2013 in Guanzhou, China
June 2013
Jun. 10 - 13: ShanghaiTex in Shanghai, China
August 2013
Aug 21-23: Sign Africa (SA)
September 2013
Sep 8-12 : PRINT (GraphExpo)
October 2013
Oct 23-25 : SGIA (Orlando)
Nov-Dec 2013
28 Nov- 1 Dic : Sign Istambul (Turkey)

2012

February 2012
Jan. 31 - Feb. 02: Sign and Graphic Imaging Middle East in Dubai
Feb. 18-21: D-PES Guanzhou, China
Feb. 20-23: China Sign , Guanzhou
Feb. 21- 24: FESPA Digital in Barcelona, Spain.
March 2012
March 1-3: Graphics of the Americas, Miami
March 22-24: ISA Orlando
April 2012
Apr. 17-19: China Sign Expo (CIEC) in Beijing, China

May 2012

May 3-16: DRUPA in Dusseldorf, Germany
May 22-25: Rapid 3D & Imaging Exposition 2012 in Atlanta, GA

Sept 2012

Sept 18-23: Photokina 2012 in Cologne, Germany
Sept 24-26: Tecnargilla in Rimini, Italy
Sept 27-29: Reklama in Moscow, Russia
Oct 2012
Oct 18-20: SGIA Expo, Specialty Printing & Imaging Technology in Vegas

2011

January 2011
January 24-26: Dubai SGI, Sign and Graphics Imaging, the first major international sign industry event in the world each year. 25th January 2011, Seminar Room, Airport Expo, Dubai, UAE. Lectures by Nicholas.


Seminar 1, 11:00 hrs. Green Inkjet Printing (Ink & Media) vs Greenwashing (over-exaggerated claims)
Seminar 2, 14:00 hrs. After-Market (wide-format inkjet) Inks: How to Assess and Evaluate

February 2011
February 24 -26: FLAAR at FESPA Americas + Graphics of the Americas (GoA)

Lectures by Nicholas Hellmuth

At GoA:
Feb 24: 12:30 PM-2:00 PM New Technologies in Wide Format Printers
Feb 25: 12:30 PM-2:00 PM Wide Format Opportunities with resin ink Technology

At FESPA
Feb 25: 3:00 - 4:00 Cartón con estructura de nido de abeja: Materiales innovadores y amigables con el medio ambiente
Feb 26: 12:00 - 1:00 Impresión sobre todo tipo de materiales: La impresión decorativa para sobresalir ante su competencia

February 28: Dongguan
March 2011
March 22 - 26: Graphispag Digital Barcelona
March 25 - 27: Art Expo
April 2011
April 28 - 30: ISA Vegas
May 2011
May 4 - 6: Visual Impact Expo, Sydney, Australia, and PrintEx11
May 24- 27 : Fespa Hamburg, Germany, Six of us attended, great expo.
June 2011
June 17: 11:30 AM Lecture Toner at Wide-Format Print Size, How can toner best compete with Wide-Format Inkjet? Santa Monica, C.A. Double Tree Suites by Hilton Hotel Santa Monica, 1707 Fourth Street, Santa Monica, CA, United States
July 2011
July 6 - 9 : APPPEXPO:Shanghai, China. Four of us from FLAAR will attend, including our specialists in textile printers, inks, media, coaters and laminators
July 18- 22 : Arqueology Congress, Guatemala
July 20- 23 : Serigrafia Sign, Sao Paulo, Brazil
August 2011
August 16 - 20: Fespa Mexico, we gave not yet decided if we will attend this expo.

2010

November 2010
November 12 -14: FESPA Asia Pacific – Bangkok, Thailand.
November 19: FESPA Brussels Belgium. Lectures on Green inks and Latest Digital Technologies by Nicholas Hellmuth.

10:20 AM-10:50 AM New technology – Digital Printing
11:40 AM-12:10 PM New technology – Sustainable Inks
12:10 PM-12:40 PM Panel Session: Innovation, Exploring the drivers for innovation (is it technology; customers; printers; or all of these and more)
3:30 PM- 4:00 PM Panel Debate: Developing powerful print, Where print meets marketing (innovative use creates a strong message and provides added value to your customers)

November 25-28: Sign Istanbul .
November 29-30: SIM in Abu Dhabi. Nicholas will be one of the speakers at this sign expo:

Monday 29, Major Lecture Abu Dhabi National Exhibition Centre (ADNEC)
Tuesday 30, Lecture Abu Dhabi National Exhibition Centre (ADNEC)

December 2010
December 7: Costa Rica conference on cultural heritage (Dr Hellmuth will be a speaker).