Researching how many edible plants are in swamps and marshes
Posted January 12, 2020
While in Parque Nacional Yaxha, Nakum, and Naranjo in 2018-2019 we found two remarkably biodiverse ecosystems filled with plants I have never seen elsewhere in this park nor in adjacent Tikal park. These unexpected plants were surrounding aguadas and in two very different seasonally inundated savannas: Savanna East of Nakum and Savanna of 3 Fern Species. Courtesy of the cooperation of the Naranjo sector team (Arqueologa Vilma Fialko, Arquitecto Raul Noriega, and mapping specialist Horacio Palacios we noticed and documented there was actually a short savanna between the end of Bajo La Pita (a typical Peten tintal) and the beginning of the cibal (sawgrass) and then jimbal (thousands of native Guadua longifolia thorny bamboo) before the hillside forest at the north and corozera area at the northeast (all of this is at the immediate edge of the acropolises and raised plazas of Naranjo- Sa'al).
Then in 2020, the team of cooperation and coordination of the Municipio of Livingston had learned of our interests and abilities to explore remote areas to document plants and trees not noted by botanists in these specific locations. So the Muni Livingston invited us to bring our field photography teams and equipment and we began with a field trip in February 2020 and March 2020. Then COVID hit, but Livingston did not get seriously infected so we were asked to return in October, November, and December. With the assistance of local Q'eqchi' Mayan guides and the local Garifuna families we found plants I had never heard of during my over half century in Mesoamerica: lots of cauliflorous tree species on moist hillsides and three species of edible plants in swamps and marshes. Plus several species of trees that produced edible fruits or seeds for the Classic Maya thousands of years ago.
This project coordinated with Alcalde Daniel Pinto (Municipio de Livingston) for the flora and fauna is for 8 days field work each month for all 12 months of year 2021, so we look forward to providing the local people and the world, documentation on the waterbirds, pollinators, and other fauna (such as manatee) and all the flora including liverworts, hornworts, mosses, fungi and lichens in addition to plants edible and used by the Classic Maya in the past. Our www.maya-ethnobotany.org and www.maya-ethnozoology.org show flora and fauna. Our www.maya-archaeology.org features the plants we are finding that are missing from books and articles on food of the ancient Maya. www.digital-photography.org shares with you tips on which digital photography equipment is best for recording flora and fauna. Our social media is via FLAAR Mesoamerica and MayanToons for our programs of education for school children.
---
The FLAAR Mesoamerica team hiking across the hammock bridge
Posted December 23, 2020
The FLAAR Mesoamerica team hiking across the hammock bridge over the end of Rio Quehueche (as it flows into Amatique Bay, northeast side of town of Livingston, Izabal, Guatemala).
We hiked for many kilometers along the beach since several kinds of palms and Crescentia-related plants grow only along the Caribbean coast (of Izabal, Belize to the north and Honduras to the southeast).
This photograph is taken by Haniel, the licensed drone pilot of our licensed drone. We are donating all our aerial photos to CONAP and the Municipio de Livingston when the photos are processed and cataloged. These photos are intended to be available to INGUAT, to local students and professors, etc.
---
Happy Holidays from FLAAR Mesoamerica Team
Posted December, 2020
Happy Holidays! Our very best wishes to you this festive season. May 2021 bring you peace, joy and prosperity. From all staff members of FLAAR Mesoamerica.
---
English edition of MayanToons animated video now available
Posted August 19, 2020
Here is the voice of Camila Morales narrating the English version of Episode 2 of MayanToons (Our Freshwater Friends, the Boat-Billed heron riding a friendly local Guatemalan crocodile).
Juana the Iguana, Tappie the tapir, and an otter love the river that flows through the rain forest.
---
Amaranth was for the Maya and Aztec what Quinoa was for the Incas
Posted July 30, 2020
Quinoa is the Superfood of the Incas of the Andes Mountains of Peru. Amaranth is known as the Superfood for the Aztec of Mexico, but growing it was banned by the Spaniards (because it was associated also with Aztec religious ceremonies).
Quinoa is found in supermarkets in Guatemala in various brands, and in most supermarkets in USA. But, amaranth is not in the giant supermarket near my office. And not in the organic food chain stores here either (in USA). Only very few stores have amaranth. In Guatemala I have found it only in an organic food store (so not in most supermarkets).
This is unfortunate since amaranth is native to Guatemala (in addition to Mexico and elsewhere) and is widely grown throughout the Maya Highlands (often as a decorative plant). But once I found out how healthy amaranth is (and its leaves, named bledo in Guatemala), I like to remind the world to speak with the managers of their local supermarkets to get amaranth available. It comes in raw seeds of "popped" or in flour. Yes, I eat amaranth pancakes as an excuse to cover my meal with honey.
This week Vivian Hurtado took a photograph of one of the many amaranth plants in our research garden. Other species and other varieties come in different colors.
Note the happy beetle that is wandering around on the left (you can see the beetle if you Click to Enlarge).
---
2nd Animated Video by MayanToons now released.
Posted July 27, 2020
Our long range goal is to have educational videos to help children learn which plants and which animals are in each ecosystem of the Maya areas: savannas, hills (especially karst geology), aguadas, wetlands (riversides, mangrove swamps, etc.). We start with the Maya Lowland areas (Peten and everything around it): Once a generous considerate individual, family, NGO, or foundation provides funds, we can increase our team size and create more impactful videos. But we wanted to go ahead and start with initial concepts (once funds come in we will use Maya musical instruments, have more action, etc.).
We are starting to ask for reviews by people: Sofia Monzon, mother of Jade Torres, kindly did a cellphone video of her daughter watching the new video. Would help greatly to have more feedback (what the parents would like added or subtracted; what the children would like added or subtracted).
So here is Episode 2 being watched by a young Guatemalan child, age 4. She does not know that the music was provided by her aunt (the sister of her father).
---
Here is the actual video, Spanish edition (2 entertaining minutes on riverside creatures of Guatemala, Central America).

Please send your reviews to us at MayanToons FLAAR.org Just put the symbol into the empty space and close the spaces. It helps to know the age of the child that watched it. Your comments can be in English or Spanish.
---
MayanToons animation, start of animated video series
Posted June 30, 2020
This is the English edition of the launch of MayanToons, 2 minutes.
---
Here is the Spanish edition, 2 minutes.
Our goal is to prepare an animated video on each waterbird, treetops mammal, animals of the forest floor, rivers and lakes of Guatemala. The first three episodes will be to introduce some of the characters. Then we will show animal by animal, like an animated infographic poster. We will show and explain pollinators (bees, butterflies and bats, plus mammals!).
As soon as funding is available we will put these videos into Q'eqchi' Mayan and Garifuna languages for the Municipio de Livingston. And then into the other regional languages.
It is rare that animated videos are initiated by a professor who studies the flora and fauna in-person out in the remote areas. And produced by capable animators, illustrators, and students with an interest in the actual flora and fauna of the Neotropical areas of Guatemala and adjacent areas of Mesoamerica.
---
Unexpected palm ecosystems in Petexbatun area, Peten, Guatemala
Posted May 22, 2020
Finding, photographing, researching, and publishing these tasistal areas was a learning experience. I would like to share all of this with government agencies, universities, forestry and wildlife organizations, and students. So we now have four reports for you.
My personal style is as a photo essay, so each report is primarily photographs of the Acoelorrhaphe wrightii palms, locally known as tasiste palm. And area where they grow en masse, with up to a million palms in a small packed area, is called a tasistal.
| | | | |
| --- | --- | --- | --- |
| | | | |
| Tasistal Arroyo Petexbatun, photos from ground level part I | Tasistal Arroyo Petexbatun, drone photos part II | Tasistal Arroyo Faisan, photos from ground level part I | Tasistal Arroyo Faisan, drone photos part II |
I hope that ecologists, geologists, archaeologists, botanists, and zoologists will be curious and want to visit these tasistal ecosystems. What was growing here 2000 years ago when the Maya cities of Aguateca and Petexbatun were not far away (up in the hills a few kilometers away)?
---
Municipio de Livingston ecosystems, PowerPoint is now available in English
Posted May 13, 2020
This series of photographs of ecosystems of Izabal and Peten is available in two formats, 6MB and 27MB. You can post this, share it, use in in your classrooms presentations (no permission required).
The Spanish original (with video and voice) is already available below. The PowerPoint (in .pdf format, above) is updated with additional written text.
---
Video of presentation of Nicholas Hellmuth on biodiversity of ecosystems of Municipio de Livingston, Izabal and savannas of PNYNN, Peten
Posted May 06, 2020
The entire presentation (PowerPoint plus voice) is now available courtesy of Muni Guatemala.
---
EFI VUTEk D3r UV-cured printer print samples
donated to Q'eqchi' Mayan school in Municipio de Livingston
Posted March 18, 2020
Several weeks ago we visited one of the factories of the international printer manufacturer EFI VUTEk to test the print quality of their newest super-wide roll-to-roll UV-curing inkjet printers (especially the efi VUTEk D3r).
To judge the capability of this UV-curing ink technology to be able to producing a diverse range of colors we use designs from the MayanToons division of FLAAR Mesoamerica (a division of FLAAR and FLAAR-REPORTS).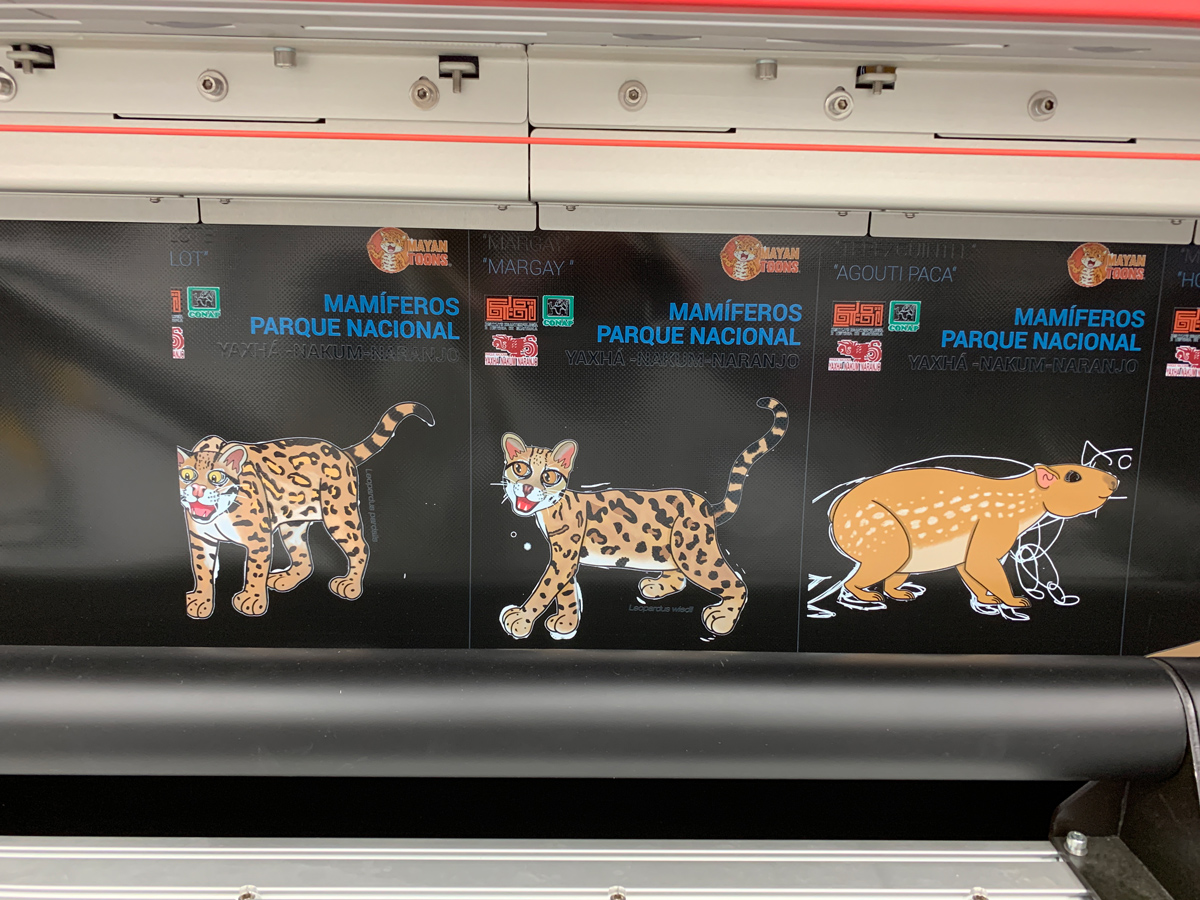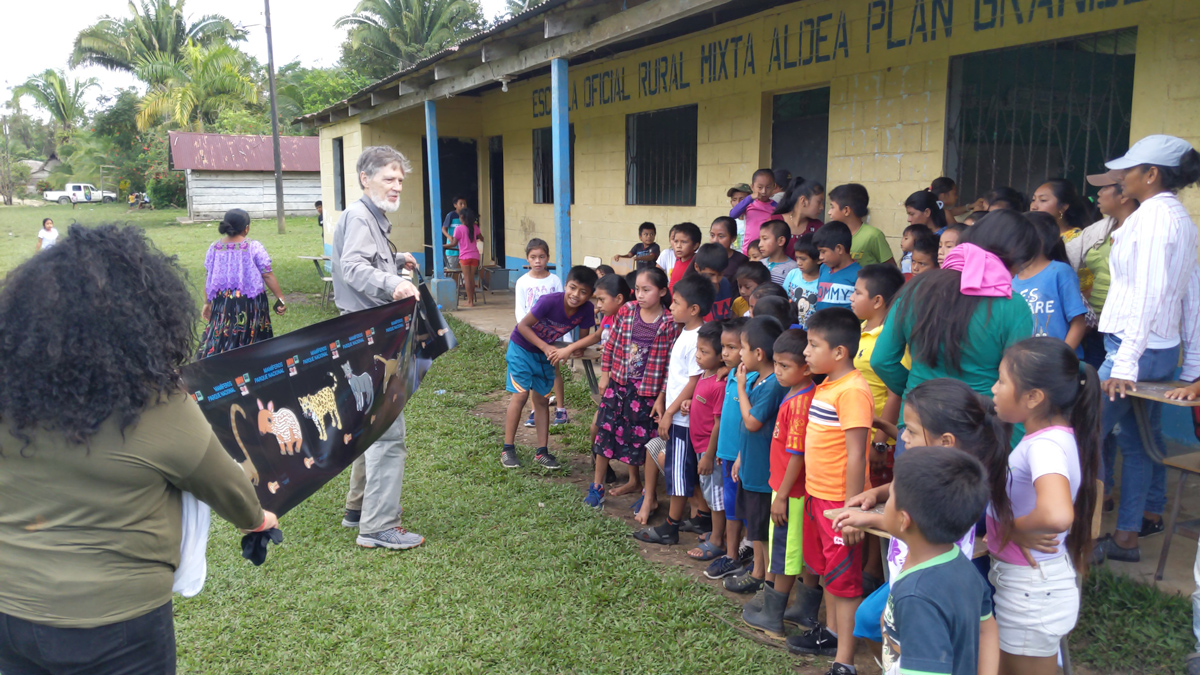 These prints show the native mammals of the Neotropical rain forest of Guatemala and adjacent countries. One of our goals is to encourage people to protect the endangered species and to preserve the rain forests.

This school is for the settlement of Plan Grande Tatin, of the Municipio of Livingston, Departamento of Izabal, Guatemala, Central America. To reach here requires a 4-wheel drive pickup truck for an hour or so.

All the people here speak Q'eqchi' Mayan language, so we go with one of our in-house Q'eqchi' Mayan staff. We also have staff that speak Kaqchiquel Mayan and other staff that speak Pokomchi Mayan. There are about 21 Mayan languages in Guatemala, plus Xinca and Garifuna.

We are now preparing our next generation educational material to add Garifuna, as this is one of the languages spoken in the town of Livingston: people here speak Spanish, Garifuna and/or Q'eqchi' Mayan.

The students also like to learn English, so we include English in the captions on our infographic posters that we prepare for the schools.


This is the print on the efi VUTEK D3r super-wide (3.2 meter wide) printer in the factory.

Normally we go to printer and visual communication trade shows around the world (for over 20 years). But it helps to visit the factory and do print samples in the demo room to really judge the quality of a printer and its ink.
---
Prints with pigmented ink on rigid material
helps educational material last for years
Posted March 18, 2020
We (FLAAR from USA and FLAAR Mesoamerica in Guatemala) have been donating educational material to schools of Q'eqchi' Mayan students in remote areas of Guatemala over the recent three years. We will now prepare additional material in Garifuna language, one of the three languages spoken in the Municipio of Livingston (Spanish, Q'eqchi' Mayan, and Garifuna).
We visited the school in the village of Plan Grande Tatin in early March (an hour in 4-wheel drive pickup truck from the town of Livingston). On this first visit the school teachers, the parents, and the village elders asked if we could help (the primary school teacher was no longer available and they need a new individual to be assigned as soon as possible). So I decided that at least we should return to the school and donate basic educational material; so we drove back in 4WD pickup truck several days later and we donated the samples that we happened to have with us.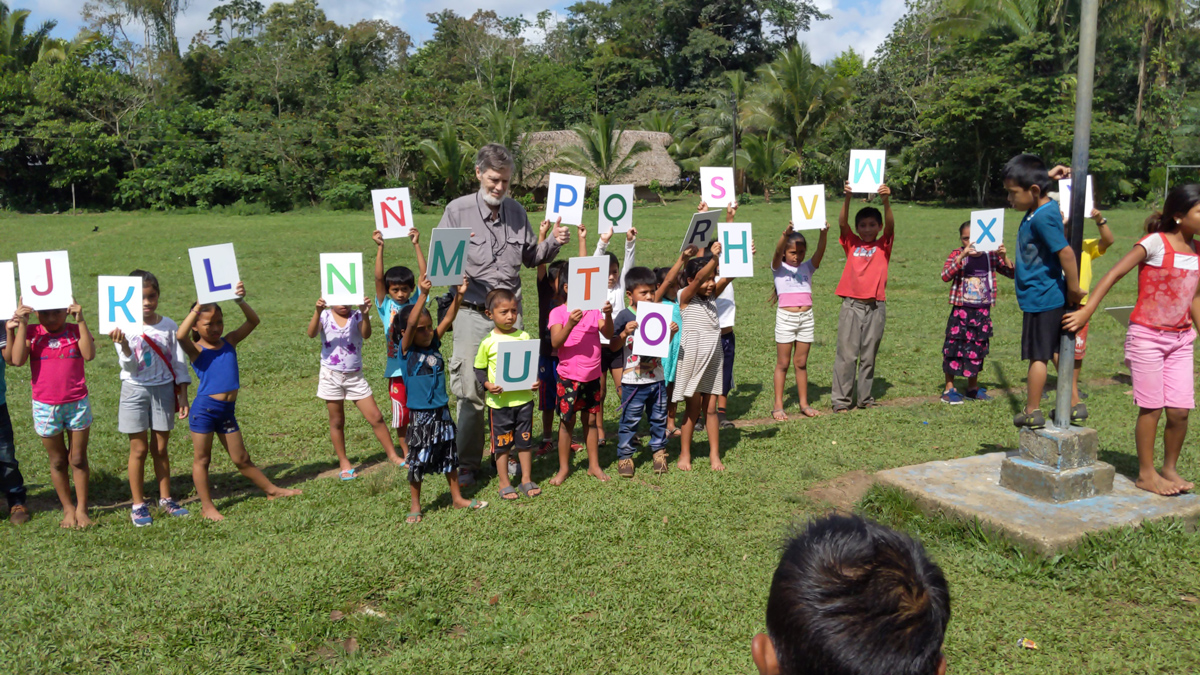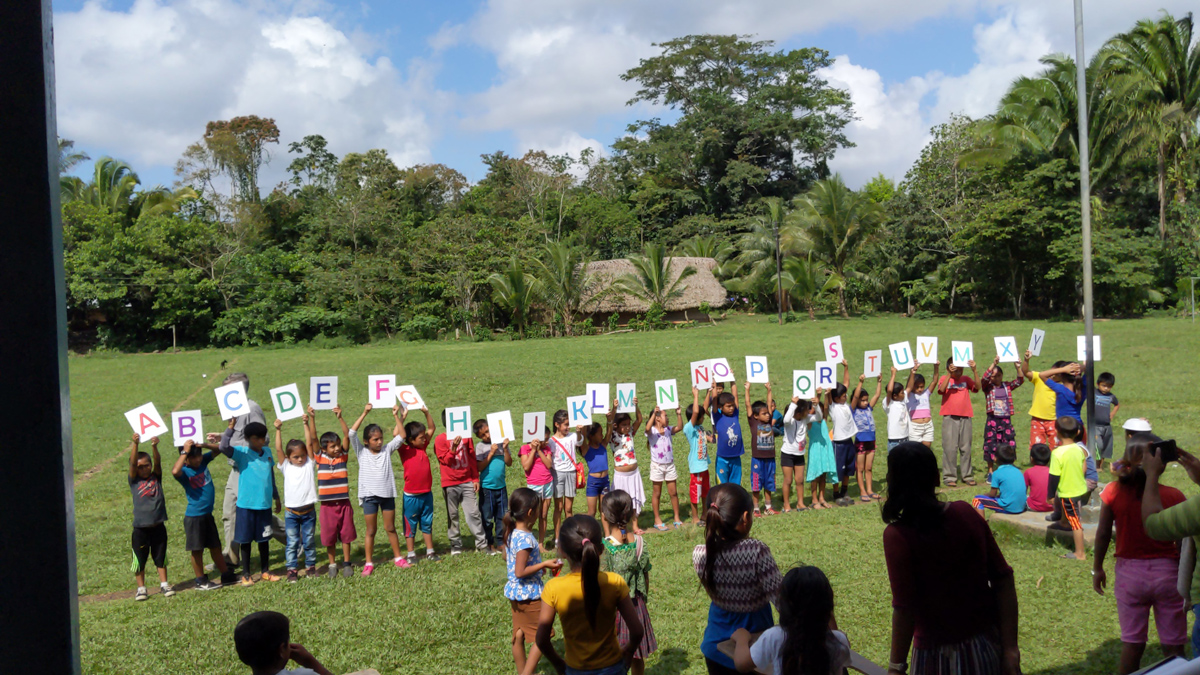 Dr Nicholas Hellmuth, FLAAR, donating ABC learning aids to Qeqchi Mayan school Plan Grande Tatin, Municipio de Livingston, Izabal, Guatemala, Central America.

The natural beauty of the surrounding rain forest is clearly visible behind the local house in the background.
These letters are printed on rigid material to survive in the schools for several years. We thank Mutoh USA for printing these and donating them to FLAAR so we could donate them to Mayan schools in remote areas of Guatemala.

The school kids had a lot of smiles as they ran around to put the letters in alphabetical order.
---
Colorful options for printing banners for schools
Posted February 27, 2020
In 20 years of doing print samples at wide-format inkjet factories and demo rooms around the world, all the media and substrates have been white. Here in the EFI VUTEk factory they also did print samples on solid black PVC and solid red material. When you go to a printer/signage trade show you can see all the other solid colors that are available options. The benefit of UV-curing in is that you can print on all these vinyl materials.
So I show the red and black samples here. Plus a print on transparent material (the D5r and D3r can have both clear and white ink available for your designs; the white is obviously essential for printing on transparent material).
The designs are from the MayanToons division of FLAAR Mesoamerica which is a division of FLAAR. FLAAR-REPORTS is also a division of FLAAR Mesoamerica. Mesoamerica is the word for the areas of the Americas influenced by the Olmec, Aztec, Maya, Teotihuacan, and Toltec civilizations for thousands of years. Our main office is in Guatemala, on the ancient trade routes of all these civilizations in past millennia.
MayanToons prepares educational material for local schools in rural areas up in the mountains and in the rain forests. All the print samples we will take to these schools and donate to them. We thank Hanan Yosefi and Tomer Ohavi for the invitation to visit the factory and demo room; we thank the printer operator Liron Cohen for doing the prints.
---
Wide-format inkjet printing test evaluations
Posted December 18, 2019
Rather than accept a PR release from a manufacturer, the more realistic way to know whether a product is good, or not, is to make the effort to do a print test (preferably with your own files).
So at PRINTING United 2019 and also at SGIA 2018 we did test prints on a Konica Minolta Accurio Wide 200 printer (with transport-belt for roll-to-roll; can also do thick and rigid materials).
I must admit I learned a lot about these printers during this process. This is why, for over 20 years, my evaluation style is not to write about a product we have not seen in-person.
So here are two different FLAAR-REPORTS, each showing all the print results, analyzed in our office by Dr Nicholas (Hellmuth) and Jose Melgar (UV-curing printer Review Editor). After the prints are done at the expos, I fly them back to the office. After we study them, we donate the prints to local schools in rural areas of Guatemala, to national parks in the jungle areas of Central America, and to non-profit organizations.
---
Dr Nicholas and the FLAAR Mesoamerica team wish you a Happy Holiday Season
Posted November 28, 2019
We prepared our holiday season message by writing the words with chile chocolate on top of a bed of cacao beans. We bought these in the Q'eqchi' Mayan markets of Coban, Alta Verapaz, Guatemala, last weekend.
Chile chocolate is a special chile used to flavor Maya cacao drinks. The cacao beans from Theobroma cacao trees are the source of cocoa, used to make chocolate. Probably most cocoa today is raised and harvested in Africa but cacao trees are native to southern Mexico, adjacent Guatemala and nearby countries.
Both the Maya, Aztec, Zapotec, Mixtec and everyone else in Mexico, Guatemala, Belize, Honduras, etc. all grew and drank liquids made with cacao. Several dozen other plants were used as flavorings. We have worked for many years to find each plant. We did this because the last time I spoke with Yale University professor Dr. Michael Coe, he said that if he had time to rewrite his cacao book he would do much more research on all the flavorings. So I accepted this as an inspirational challenge. FLAAR (USA) and FLAAR Mesoamerica (Guatemala) now have one of the largest photo archive in the world of the flowers, seeds, and other plant parts used to flavor cacao of the Aztec, Maya and their neighbors.
If a chocolate or cacao or cocoa company is interested in a joint project, we have enough material for five volumes, coffee-table book style, with high-resolution digital photographs. We would like to show the world lots of new options for flavoring cocoa. And we would like to help preserve the Maya and Mesoamerica cultural heritage since each year in the Mayan markets fewer and fewer of these flavorings are being sold.
---
Knowledge and Experience with Wide-Format Inkjet Printing can help in many other areas of research and publication
Posted November 28, 2019
FLAAR has many research and educational products underway. Since we have 20 years experience with wide-format inkjet printer digital technology we share this knowledge with the FLAAR Mesoamerica teams that study Neotropical flora, fauna, and ecosystems (especially of Guatemala, Central America).
So here are three different FLAAR REPORTS that you can download; each edition is for different areas of focus.
| | | |
| --- | --- | --- |
| | | |
| If you are a botanist, ecologist, archaeologist, and especially if working in Mesoamerica, this report is for you. | If you are in the world of wide-format inkjet printing, this report reviews banding, edge splatter, and what colors a UV-curing printer can, or cannot achieve. | If you are working to help schools anywhere that Spanish is a local language, this .pdf shows you how banners can help teach school kids ABCs and lots of other basics. |
---
Another Aechemea magdalenae ecosystem documented
Posted July 23, 2019
Horacio Palacios knows the plants and insects in many parts of Parque Nacional Yaxha Nakum Naranjo. He has worked many years finding and mapping satellite sites of Naranjo (and other parts of the park) with Arqla. Vilma Fialko and Arquitecto Raul Noriega.
But now, with the cooperation of FLAAR Mesoamerica, we can record the ecosystems they hiked through in past years (sometimes decades ago). So on July 7, 2019, park ranger Teco (Moises Daniel Perez Diaz) took photographs of terrestrial Aechemea magdalenae on the south side of Rio Holmul (about 20 km from Naranjo). Horacio showed them where this pital was.
Aechemea magdalenae produces useful fibers, better than most maguey-like plants of Yucatan or elsewhere. If funding were available we would like to help local Mayan people around the park start a basketry, hat-making, and mat-making company to use local native renewable resources to make bio-degradable souvenirs to sell to tourists around Peten.
But to start gardens of Aechemea magdalenae you need a source of seeds and root stock that is not from inside the park. About seven months ago we found a pital outside the park property at the northwest; so now this is the second one outside the park (at the north). With the help of Teco we have already found two pital areas inside the park.
My idea is to find ecosystems outside the park that have been destroyed (chopped down, bulldozed, burned over, for milpas or cattle pastures) and encourage people to replant the natural plants around aguadas. This also protects the water sources for lots of native animals.
Our team at FLAAR (USA) and FLAAR Mesoamerica (Guatemala) is making a list of every plant within the park that can be utilized by local people to make and sell handicrafts to tourists. Plus we are working to increase tourists who visit Yaxha by publishing our FLAAR Reports on the amazing flora and fauna of the biodiverse ecosystems we are documenting within the park.
Next step is to reclaim devastated land outside the park and to bring a halt to people sneaking into the park to chop down and burn down areas for milpas for maize. A lot of work to do but we are ready, able, eager, and motivated. We are starting applications for funding. If you or your company or if you can network with other people to assist, please let us know: frontdesk symbol FLAAR.org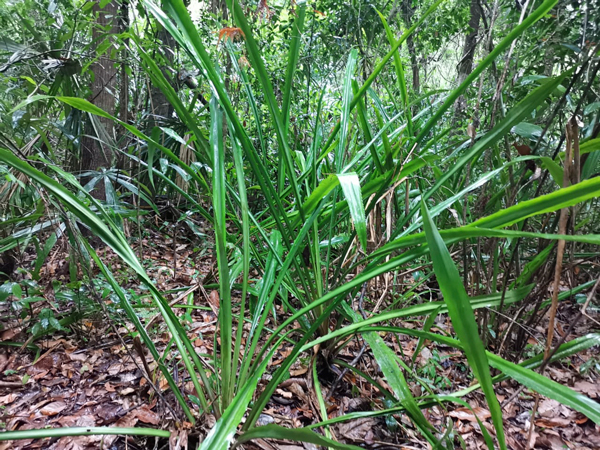 Photos are by Teco, Moises Daniel Perez Diaz, park ranger, with the Huawei P20.
---
Printing on Glass, on Metal, on Textiles, on Innovative Materials
Posted July 17, 2019
It helps national parks, botanical gardens, zoos, and comparable places that provide educational material for visitors if their signage is nicely presented. Obviously the design style and colors that are featured are key factors: light colored text on light colored background is the most common design disaster. Dark colored text on dark background color is an equally common failure in graphic design.
But once the design and layout are nicely done it helps to print on appropriate material. And, it definitely helps to have a good ink. For example, if you use a cheap ink made in a low-bid factory the colors on your sign or info-poster will fade within a few months. Yet I have photographs 1 meter high printed with pigment water-based inks on an HP DesignJet printer and others on a ColorSpan printer. These prints have lasted over 12 years in the sun of Guatemala, Central America.
In order to learn which inks are good, the team of FLAAR-REPORTS visits ink factories around the world. This year we were flown to two different continents to study ink, most recently to India. We visited the A.T. Inks factories and more than four print shops using A.T. Inks on glass, on metal, on textiles.
Since our Neotropical plant and animal research team (of FLAAR-Mesoamerica) is working in Parque Nacional Yaxha Nakum Naranjo (Peten, Guatemala), we have been studying the park signage here. Our goal is to utilize our 20 years of experience in the world of wide-format inkjet printing to develop park signs that last longer (since rather obviously the sun in the rain forests of Guatemala is rather strong). So lots of FLAAR-REPORTS are in preparation about A.T. Inks, especially their ink for UV-LED curing printers and their ink for wide-format inkjet textile printers. Every month we will have a fresh new research report for you.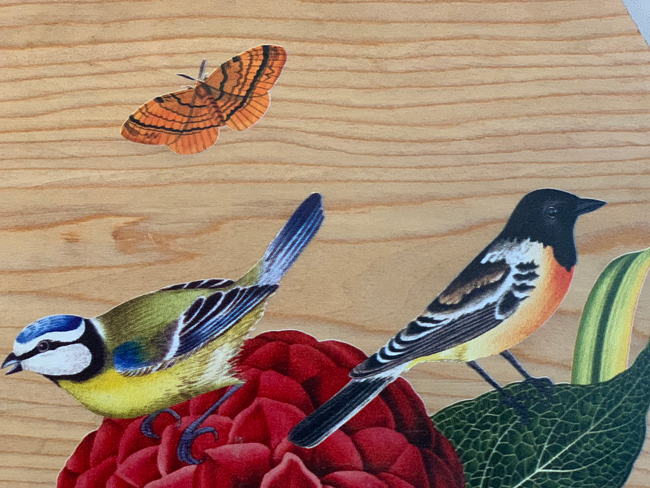 Birds of a national park, flowers, butterflies, can be shown in full-color if you have an ink with good quality. This is a test image we inspected in India printed with UV-LED curing inks from A.T. Inks .
---
Inspiring people (around the world) to initiate a start-up T-shirt business
Posted June 18, 2019
Many people dream of launching a start-up business in their home: in their basement, in their garage, in an extra room in their house.
So our goal is to help people put their dream to work as a real project. So we are cooperating and coordinating with DTG Digital T-shirt printer companies and appropriate brands of heat presses.
People around the world often wish they could initiate a T-shirt printing company: starting with printing for local schools or churches, local charities, local sports clubs, local museums.
So let's get started. We provide more info on T-shirt printer options here, DTG Digital T-shirt printer brands that we know.

FLAAR Mesoamerica team holding T-shirt samples provided by DTG Digital at FESPA Munich 2019.
---
Finding Plant Species at Yaxha not previously documented for this area of Guatemala
Posted June 12, 2019
The photo here shows Dr Nicholas exploring a swamp-like, bog-like ecosystem in the far west edge of Parque Nacional Yaxha Nakum Naranjo. We do research on plants and animals (and insects and reptiles) at this park one week every month. We had just noticed a white flower that we had never previously seen in the previous 10 months work in this park. The only way to get close enough to photograph it was to wade into abyss (and hope it was not "neck deep"). Fortunately it was only knee-deep.
FLAAR Mesoamerica is a division of FLAAR that is devoted to studying flora and fauna and ecosystems of Guatemala. FLAAR itself was incorporated as a non-profit research and educational institution in 1969 to map the Mayan pyramids, temples, and palaces of Yaxha, an ancient city between Tikal and the border with Belize. From 1970, 1971, 1972, 1973, and 1974, FLAAR together with Miguel Orrego and capable students from Guatemala and USA, worked to protect the fragile ecosystems here and Nicholas encouraged the then president of Guatemala and the FYDEP director of the Peten area to declare Laguna Yaxha and Laguna Sacnab as a parque nacional. The initial declaration was accomplished in 1974. It then took 19 more years to create the full size of the park as it is today; other individuals and other NGOs did this work in the 1980's and 1990's (so the park got Naranjo area added) and everything was finalized in the early 1990's, 20 years after we initiated the idea in the 1970's of protecting the ruins and the flora and fauna as a national park.
FLAAR-REPORTS is a division of FLAAR that was developed in the late 1990's when Dr Nicholas Hellmuth was awarded a Visiting Research Professor grant and 6-month position at Japan's national museum of ethnology in Osaka. The project in Japan was to teach the staff at the museum how to scan (digitize) and handle photographs in the museum's archive (Nicholas was a photographer since age 16, and especially at age 19 when he worked at Tikal for 12 months).
So we have different teams of capable and experienced individuals working on separate projects: flora and fauna in Guatemala; inkjet printers, inks, printable materials, cutters, laminators, etc around the world. And a third division, MayanToons, which writes and illustrates books in Spanish, English, and local Mayan languages for local schools in remote rural areas of Guatemala.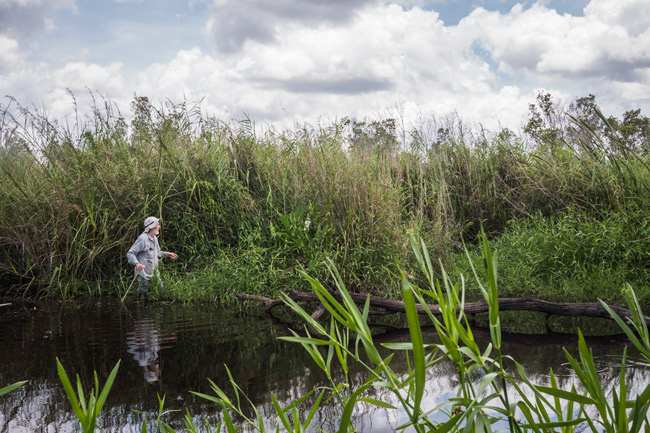 Dr Nicholas Hellmuth studing Sagittaria lancifolia in Savanna of 3 Fern Species, at far west end of Parque Nacional Yaxha Naranjo Nakum, south of Laguna Perdida (and north of Laguna Lankaja).

Click here to open Sagittaria lancifolia on a close-up shoot.
---
FLAAR REPORTS team in India to inspect A.T. Inks factory
May 29, 2019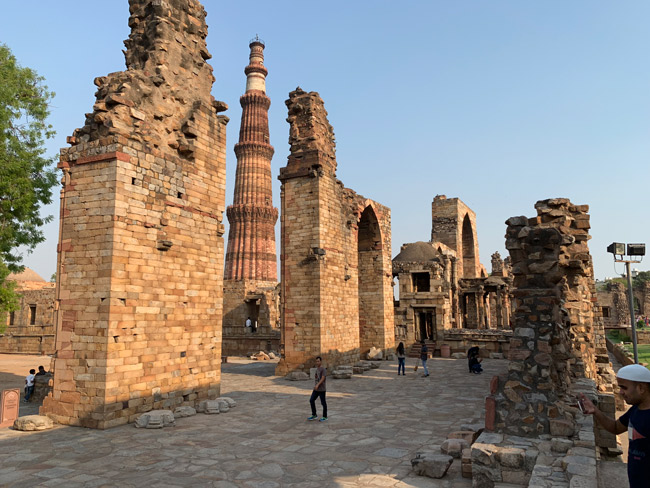 Quawwatul-Islam Masjid, Delhi, India
Last week Pablo M. Lee (inkjet ink evaluation manager) and Dr Nicholas were flown to India to visit ink factory, pigment production factory (pigments are main ingredients in inkjet ink), visit bottling factory and the very impressive R&D labs and facilities of A.T. Inks, in Vadodara area of India.
A.T. Inks is the brand name of Rex-Tone Industries Ltd. In addition to being shown all the chemistry and production facilities, the host kindly provided car-and-driver so we could visit historically and culturally important parts of India, especially around Delhi, plus a change to experience a 550 year old fortress palace by staying there as a hotel on the last night in this remarkable country.
A.T. Inks will be printing color samples for FLAAR and sending these to Guatemala. We will then donate these to Mayan schools in remote rural areas of Guatemala and will donate the panorama photos of Parque Nacional Yaxha Nakum Naranjo to the park administrators and to other entities associated with the park.
---
FLAAR REPORTS team on the way to China to inspect a new outdoor ink
Posted April 15, 2019
Dr Nicholas and Pablo M. Lee are en route to China to inspect a new ink that they learned about at APPPEXPO 2019 in Shanghai last month.
This ink, from APOLLO ink company, is for outdoor printing yet the ink is not solvent-based and not needing UV-curing.
FLAAR is working with the park administrators of Parque Nacional Yaxha Nakum Naranjo on their educational signs for part visitors, so learning about new inks is helpful. Most outdoor signs fade quickly from the sunlight.
Apollo ink sample print in their booth at APPPEXPO 2019 in Shanghai.
We will issue a full report on Apollo ink company and their ink when we return from China.
---
T-shirt Printer ability to create metallic-like lustrous effect
Posted March 21, 2019
Setting up a T-shirt company in your basement, garage, or home-office is increasingly popular. So the team at FLAAR (USA) and FLAAR Mesoamerica (Guatemala) are doing research to prepare an educational series of publications on how to get started in T-shirt printing. We will discuss differences between toner printers for T-shirts, sublimation ink T-shirt printers, and pigment ink T-shirt printers.
Attending APPPEXPO 2019 in Shanghai was a helpful printer trade show because more than 17 brands of T-shirt printers were on exhibit. They ranged from T-shirt printers to get started, T-shirt printers for step by step evolving to a regular T-shirt business, and T-shirt printers for serious production full-time. I would like to start with suggestions for a first-time T-shirt printer: Ricoh Ri 100 is one to look at for sure. An additional first-time T-shirt printer using toner is the new BINTERJET technology using vixde brand laser beat transfer media. What I liked about BINTERJET was the ability to add lustrous metallic-like color.
As soon as we have a contact at Ricoh and access to their T-shirt printer, we will write a full report and show the results possible with a Ricoh T-shirt printer.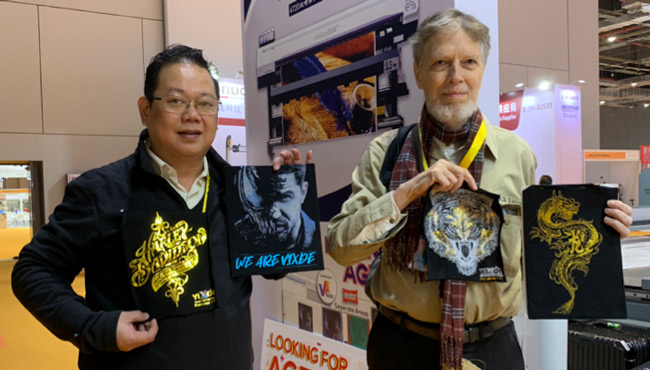 Click to view T-shirts
Here is Nicholas with the developer of the lustrous ability of an updated toner printer with software and materials from BINTERJET.

Contact is Hadiprawiro Bono, This e-mail address is being protected from spambots. You need JavaScript enabled to view it

As soon as we have this entire BINTERJET system in our FLAAR Mesoamerica offices we will write a report.
Once we have an in-house team acquire experience with T-shirt printing, we would like to work together with local people's associations in rural areas of Peten and Alta Verapaz, Guatemala, to provide training so they can set up their own T-shirt companies to provide income for their families. Our goal will be to focus on showing the local tropical flowers, local birds, and local foxes, armadillos, agouti, etc. to encourage protecting local flora and fauna.
---
Possibly more cenotes in Yaxha area, Peten, Guatemala
Updated April 4, 2019, First posted March 18, 2019
There are two well known cenote-like openings in the karst surface of the west end of Lake Yaxha. I call these the South-West Cenote and the North-West Cenote. I spell the directions as two words deliberately: both are at the west end of the lake. One is north of the lake (about 80 meters); the other is south of the lake (about 200 meters).
Both are totally filled with water (they are at the lake level; these are not like the grand cenote of Chichen Itza (where you see the water only far below)). The one cenote is between 94 and 98 feet deep, so almost 30 meters deep).
I call them a cenote because the opening is the perfect size and shape of a cenote opening (I know cenotes from childhood, in the karst area of Missouri; we have a perfect Maya style cenote behind our house: about 40 to 50 feet down into the limestone, and the water is only at the bottom (flowing in and out via a cave sprint).
Now I have discovered what I call a "Triple Conjoined Cenote" or "triple-conjoined circular lagoons" (if geologists determine they were not cenotes thousands of years ago). The triple-conjoined circular shape is visible on Google Maps (satellite view) and even more visible on aerial photographs of the Instituto Geografico Nacional (Guatemala).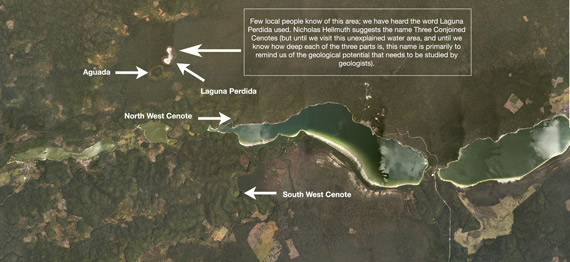 If a benefactor could provide us with a Phase One digital aerial camera, Capture One software, and powerful new computer to handle the RAW images, then we could help the institute do special coverage of the parks area of Peten (LiDAR technology removes the vegetation digitally; we need to see every single tree, every bush, in a higher resolution than any satellite system or higher than any normal government system does in these remote areas.

Photos with a Phase One iXU-RS1900 Aerial Camera (the best); or at least a Phase One iXM-RS150F, would literally change our understanding of the "Mayan rain forest ecosystems."

Kit would include iX Controller MK III with Gyro Stabilized Mounts.

Phase One Industrial, is a division of Phase One medium format camera company, Denmark.
The triple-conjoined circular lagoons are above (north of) one of the lakes (Laguna Lankaja) to the west of the west end of Lake Yaxha. There is a bog-like aguadas-like area a few meters south of the Lake of Three Cenotes. Local people call the triple conjoined lakes Laguna Perdida.
In March we hiked many hours to reach this area (led by capable park rangers Teco and Prudencio). We had to climb up a ravine from past Laguna Lankaja; climb uphill to the Laguna Perdida area. How is water this high at the top of the hill? And why are the triple-conjoined circular lagoons filled even in the dry years? (we checked Google's 20-year set of images; water every year). Of course if there is a spring below the water pressure could force the water up, but I am obviously not a geologist. So our goal is to show this to the world and encourage geologists to measure its depth (and double-check the North-West Cenote of Lake Yaxha since one person told us "it was not very deep."
Teco (Moises Daniel Perez Diaz), a helpful park ranger, told us about a collapsed cave that takes out water from the north edge of Lake Yaxha. So there is a lot for a geologist to study here (especially for a PhD dissertation, with the geological fault overlooking the East of Nakum Savanna a major chapter.
There may be a better geological word for these round areas; I am using the word cenote-like circular-shaped until I learn a better word.
---
Massive Limestone Geological Fault Line Discovered east of Nakum, Peten, Guatemala
Posted Mar 13, 2019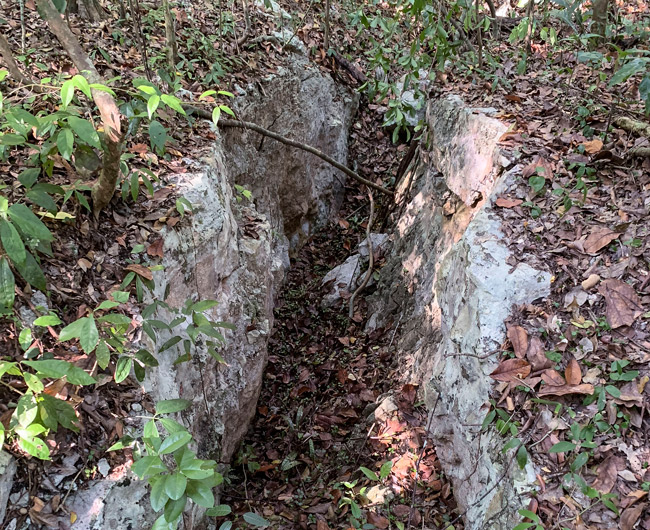 This is the tip top of the geological fissure (at the top of the flat hill); a few hundred meters onward, it is a steep fractured cliff, so dangerous that we did not want to get close to take a photo down into the abyss. Photo by Dr Nicholas Hellmuth using an iPhone Xs.
While hiking from Nakum to discover a previously undocumented grass savanna we had to survive walking across an impressive geological fault line. The limestone hill was literally split and there was a deep ravine on one side.
We hope that geologists can come here and map this fault line. Geological fault lines we well known in Guatemala but this particular stretch is potentially never before seen and never before photographed. I have never seen anything like this in the Tikal national park (adjacent to the PNYNN).
This is one more example that Parque Nacional Yaxha Nakum Naranjo offers a lot more than the monumental Mayan architecture of the several great Mayan cities within this park: now you can see the most impressive geological fault line I have ever experienced.
You can see that Yaxha is associated with geological events since one entire part of one of the main plazas is sunken (in front of Stela 11, the Tlaloc warrior king stela).
Our photos of the fault line east of Nakum are just snapshots of the top because our goal was to explore the unexpected and unprecedented grass savanna below.
---
Six from the FLAAR Reports digital printing research team are flying to Shanghai to attend APPPEXPO 2019
Posted Feb. 26, 2019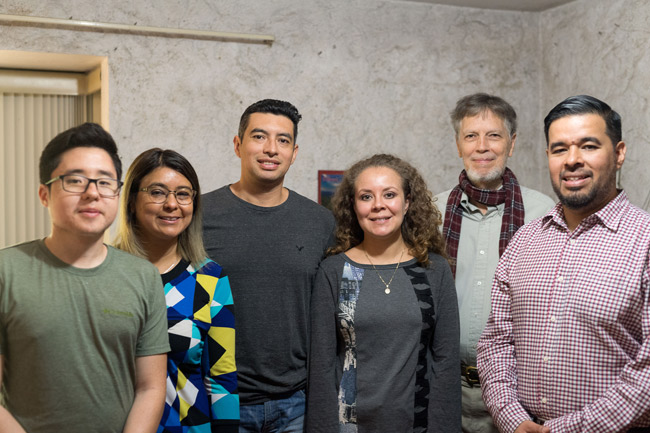 FLAAR REPORTS is a team of experienced individuals who do research and educational publications on wide-format inkjet printing techniques, equipment, and workflow. We have over 20 years experience working around the world (Japan, Taiwan, China, Dubai, Turkey, South Africa, across EU, USA, Canada, Mexico, Central America and Brazil). FLAAR REPORTS evolved from FLAAR since Nicholas has been a leader in photography of pre-Columbian civilizations since 1965 (he started photography in 1961, as a backpacker in Mexico, at Palenque). Gradually FLAAR REPORTS is evolving its own programs as FLAAR itself focuses more on endangered ecosystems, endangered animals, and the remarkable wild edible plants of the Mayan areas of Guatemala.
The FLAAR REPORTS team has visited factories that develop and produce digital printers of every size, shape, and technology (including toner printers). Although we focus primarily on wide format inkjet, two of us have experience with T-shirt printers, heat presses, and all the inks and toners to print T-shirts.
Because of our experience we are hired by trade shows, manufacturers, and other companies around the world (it also helps to have almost a million people who read our network of educational websites on wide-format inkjet printing). But what helps even more is that we are independent: we help printshop owners and managers, we assist distributors, and developers and manufacturers, to know more than just the good features of a project or a technology; we politely point out the weak or inadequate or aspects that should be improved.
During print expos (printer and visual communication trade shows) Nicholas has print samples produced to judge edge splatter and color spectrum capability. After he checks these, he flies these print samples back to Guatemala, and drives them into the remote jungle and mountain areas to donate the prints to local schools. Last week we visited two schools in the Rio Cahabon area: both schools had FLAAR produced prints on the walls of many classrooms in each school. We thank efi, Konica Minolta, Mimaki, Handtop, Teckwin, Gongzheng, and other companies for doing sample prints 3.2m and 5m wide that we can donate to the schools in areas where Dr Nicholas works when he is not at trade shows or conferences.
We also appreciate the assistance of OKI, Ricoh, and Xerox in printing samples of our MayanToons books for primary schools in Guatemala. Plus the T-shirt printer and T-shirt heat press companies for providing print samples in their booths.
The FLAAR REPORTS team is heading to APPPEXPO in Shanghai since this is the largest wide-format printer expo in the world.
---
The pretty red "Holiday Season Flower" is not a flower
Posted Dec. 13, 2018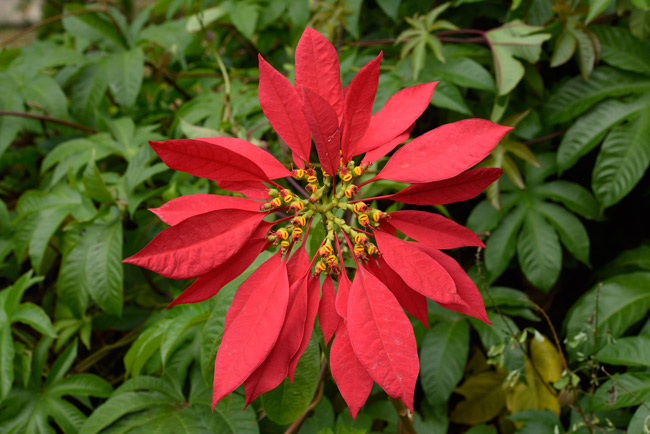 Click here to enlarge image
NIKON D810, lens 60mm f/2.8, ISO 1000, Dec. 11, 2018, by Dr Nicholas Hellmuth
The red "petals" are technically called bracts, or can be called leaves. The actual flower is the dozen tiny things inside the bright red area.
The poinsettia plants you buy in the supermarket are botanically modified from a parent stock from northern Mexico almost a century ago.
But this flower, Euphorbia pulcherrima, and its relatives are found in ravines and other areas in the Highlands of Guatemala.
We have poinsettia plants growing outside all year long. And they do start blooming just before Christmas, so here are some quick snapshots from about 3 meters away from my desk. The leaves behind are a special morning glory vine whose juice can be used to vulcanize rubber by the Maya 2000 years ago.
---
Experience Printing Technology Trends at SGI Dubai 2019
Posted Nov. 20, 2018
FLAAR Reports wide-format inkjet printer analysts, consultants, and research team meet to discuss the start of the 2019 digital printing season. Since our team work literally around the world, our first project is to cover the SGI 2019 expo in impressive and hospitable Dubai. Two of the team, Dr Nicholas and Pablo M. Lee will attend the Sign and Graphic Imaging Middle East 2019 event, at the Dubai World Trade Center.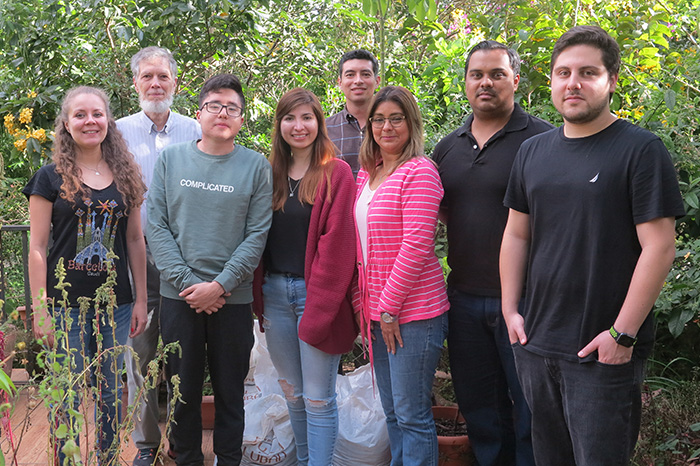 From left to right: María Reneé Ayau, Dr. Nicholas Hellmuth, Marcelo Girón, María J. García, Pablo M. Lee, Flor Setina, Paulo Nuñez and Juan C. Hernández.
FLAAR has had a team at this show for over a decade because it is international, so people from all countries come here. Plus SGI is the first major printer and visual communications expo of each year.
SGI is capably organized by IEC (International Expo Consults). We see their team also at other trade shows on many other continents. While at SGI 2019 we will be looking at UV-curing printers, latex printers, solvent, water-based, and textile printers, plus the inks, printable materials, laminators, cutters, and other workflow equipment. Also we will visit the booth and team of ME Printer magazine, one of the leading trade magazines for the Middle East.
FLAAR is presently working with Parque Nacional Yaxha Nakum Naranjo in Peten, Guatemala on the educational signage for the Mayan temples, pyramids, palaces, ballcourts and awesome flowering plants of the surrounding rain forest. Plus Dr Nicholas has an additional team working on educational material for primary schools around this archaeological park.
We hope to see you at SGI Dubai 2019, January 13, 14, and 15.
---
Ipomoea alba bloomed and we photographed the entire process
Posted Aug. 1, 2018
Ipomoea alba at our Maya Research garden. Photo taken with a Nikon D5, natural light, no flash, Gitzo tripod, 6:15pm, August 1. 2018. These "morning glory" flowers bloom at night so they are called Moonflowers (by the next day they look wilted before noon time)
Latex sap from native Mayan rubber tree (Castilla elastica) does not bounce until it is vulcanized. So the Maya game balls would not bounce until the rubber they are made from is vulcanized.
The Olmec already developed vulcanization over 3000 years ago! The Maya (and all their neighbors) had several different plants (mostly vines) which produce sulfur. Simply add the juice from these vines (when squeezed), add it to latex, heat it, and your rubber is ready to bounce.
We raise two of the different kinds of vines which have this sulfur content. Last night the Ipomoea alba bloomed at about 6:18pm (this is why a member of the morning glory genus is called a Moonflower).
Here are four different parts of the opening sequence to enjoy looking at.
---
Why is this edible native fruit missing from all lists of Maya foods?
Posted July 24, 2018
LiDAR aerial photography has suggested "millions more Maya" lived in their homelands than previously estimated. What foods were available to feed all these LiDAR suggested people over 1500 years ago?
Even before LiDAR began, the team of FLAAR (USA) and FLAAR Mesoamerica (Guatemala) has been working for many years on improving the 1938 list by Carnegie Institution of Washington explorer and ethnobotanist Cyrus Lundell of Plants probably utilized by the Old Empire Maya of Peten and adjacent Lowlands.
Lundell's decade of work in Campeche and Peten lists several dozen fruits; the FLAAR list by Hellmuth is over 126 fruits: all native to Mayan areas of southern Mexico, Guatemala, Belize, and Maya portions of Honduras and El Salvador.
But there is one fruit missing in all recent botanical monographs on agroforestry and books on edible and medicinal plants of Belize (surely there must be a book from year 2000 onward that features this fruit, but we have not yet found it).
This same fruit is missing from Lundell and we have not yet found it in any recent book on edible and medicinal plants of Peten.
The same fruit is missing from the most recent monograph on ethnobotany of the Lacandon Maya area of Chiapas.
And this fruit was missing from Hellmuth's list also!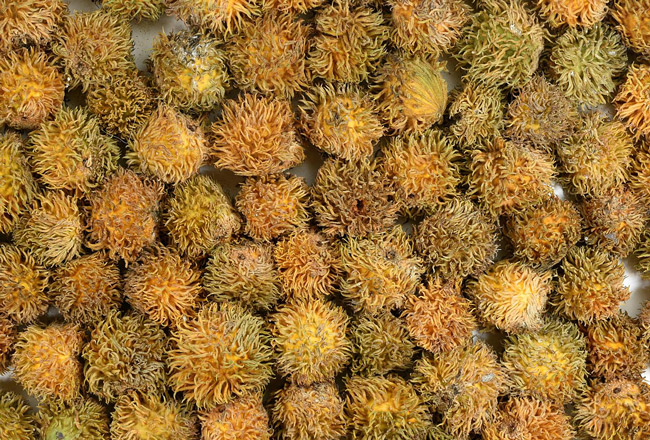 But last week we found a tree with more than 200+ healthy fruits; we did hour after hour of research
and this tree is indeed listed as native to Mexico, Guatemala and Belize!
We will be posting an entire page on this tree; and a separate FLAAR reports photo album during August.
We at FLAAR have the following goals:
Help archaeologists by providing lists of the edible native plants available to the Maya thousands of years ago.
Help improve the health of the Mayan-speaking people today (and all their neighbors) by providing lists not only of all edible plants but also their vitamins, minerals, protein and other health benefits.
Help protect endangered species and fragile eco-systems.
Continuing to assist Q'eqchi' Mayan villages with educational banners
Posted June 5, 2018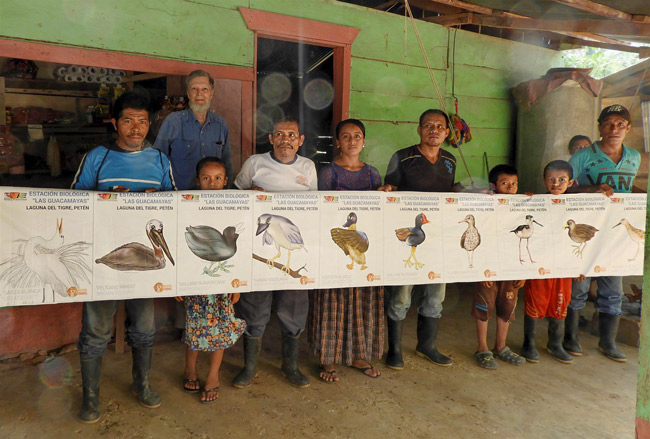 Village leaders of Aldea Cerro Azul, Municipio Chisec, Guatemala, and their families receive our donation of the first of two 5-meter long full-color printout of waterbirds of Guatemala. The school teachers can then cut each bird into a rectangular poster to put on the walls or windows of the school. All the renderings of each bird are by the illustrators of FLAAR Mesoamerica.
One of our goals is to assist local people to learn about the endangered species, especially birds, mammals and pollinators. So the graphic designers and illustrators of FLAAR Mesoamerica in Guatemala prepare educational drawings of all the species of interest.
We then take these drawings to printer expos and various companies that know FLAAR Reports do the printing for us. We then fly these horizontal banners back to Guatemala and drive several days to reach remote settlements.
This Q'eqchi' Mayan aldea is best reached by 4WD double-cabin pickup truck. We visited with the village leaders. They asked assistance with respect improve methods for pumping water from a cave, since the village's previous water source went dry in past months. Before we hiked several kilometers to reach the cave spring, we showed the village leaders and their families the kinds of material we were preparing for local schools. They eagerly expressed interest in having these banners for their schools, so we donated the two banners that we happened to have.
We will return to this area in the future and donate additional educational material. What would most help would be if a foundation, corporation, individual, or embassy program could print the books we have ready for primary schools (www.MayanToons.org). These books are ready in Spanish, English, and Q'eqchi' Mayan languages. The local teachers have told us they prefer if everything can be in those three languages.
FLAAR (USA) and FLAAR Mesoamerica (Guatemala) are also seeking funds to assist our project on pollinators (more than just bees, butterflies and bats). We would like to prepare banners showing all major pollinators in Guatemala, Mexico, Belize, Honduras, and El Salvador.
---
You may notice from this photo that FLAAR is growing
Posted July 22, 2016
Since we provide all staff flexible working hours, it is rare for 100% of the FLAAR teams to be present at any one time. But today was the birthday celebration for three different employees, so at least 90% of the teams were here at one time.
You can see the Q'eqchi' and Kakchiquel Mayan student interns and the multitude of university students who work at FLAAR.
We have several teams: digital imaging printing, and flora and fauna. The flora and fauna is in two joint teams: studying plants and animals and doing storyboards and illustrations for educational comic books on endangered species of Guatemala. Our web sites on plants, animals, and how to do high res photography are read by about 600,000+ people.
The digital imaging team does marketing and technology research on UV-curing printers, textile inks, textile printers and textile printing workflow, cutters, laminators, color management, RIP and other software and hardware. The FLAAR web sites on these topics are read by over half a million people around the world (different people than read the plants and animals web sites).
So altogether, our entire coverage of research is read by over a million people.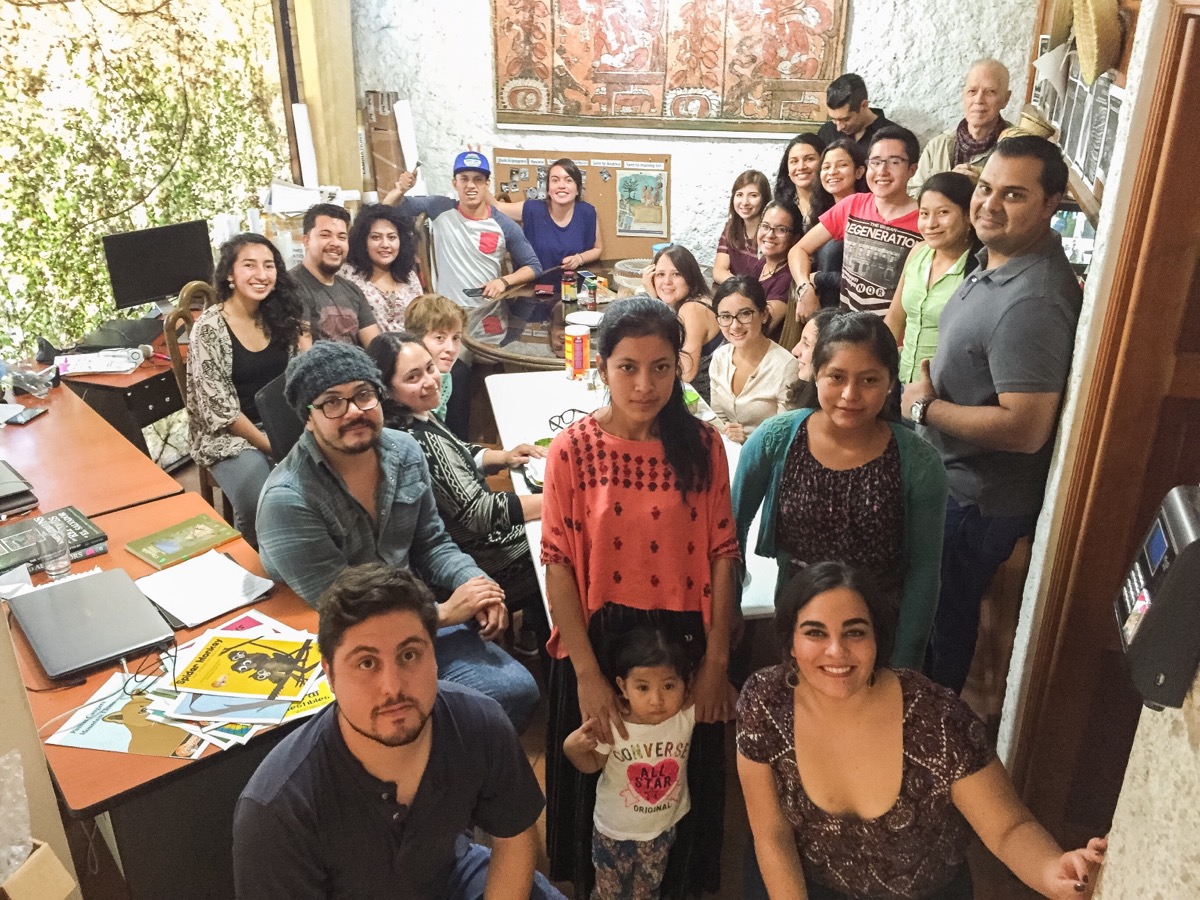 ---
New FLAAR Reports on 3D digital imaging of Mayan house architecture
Posted January 7, 2016
Ten of us, in two 4WD double-cabin pickup trucks, did a field trip deep into the remotest parts of the jungle-covered mountains of Guatemala, Central America, to test methods to render Mayan thatch-roofed houses in 3-dimensional imag