Continuing to assist Q'eqchi' Mayan villages with educational banners
Posted June 5, 2018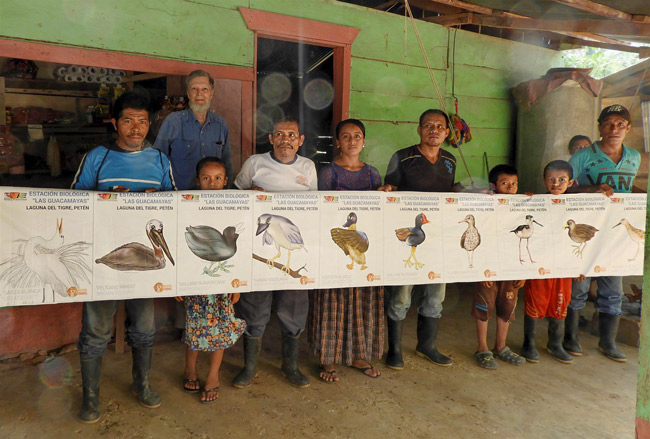 Village leaders of Aldea Cerro Azul, Municipio Chisec, Guatemala, and their families receive our donation of the first of two 5-meter long full-color printout of waterbirds of Guatemala. The school teachers can then cut each bird into a rectangular poster to put on the walls or windows of the school. All the renderings of each bird are by the illustrators of FLAAR Mesoamerica.
One of our goals is to assist local people to learn about the endangered species, especially birds, mammals and pollinators. So the graphic designers and illustrators of FLAAR Mesoamerica in Guatemala prepare educational drawings of all the species of interest.
We then take these drawings to printer expos and various companies that know FLAAR Reports do the printing for us. We then fly these horizontal banners back to Guatemala and drive several days to reach remote settlements.
This Q'eqchi' Mayan aldea is best reached by 4WD double-cabin pickup truck. We visited with the village leaders. They asked assistance with respect improve methods for pumping water from a cave, since the village's previous water source went dry in past months. Before we hiked several kilometers to reach the cave spring, we showed the village leaders and their families the kinds of material we were preparing for local schools. They eagerly expressed interest in having these banners for their schools, so we donated the two banners that we happened to have.
We will return to this area in the future and donate additional educational material. What would most help would be if a foundation, corporation, individual, or embassy program could print the books we have ready for primary schools (www.MayanToons.org). These books are ready in Spanish, English, and Q'eqchi' Mayan languages. The local teachers have told us they prefer if everything can be in those three languages.
FLAAR (USA) and FLAAR Mesoamerica (Guatemala) are also seeking funds to assist our project on pollinators (more than just bees, butterflies and bats). We would like to prepare banners showing all major pollinators in Guatemala, Mexico, Belize, Honduras, and El Salvador.
---
Last set up day review at APPPEXPO 2017
Posted March 07, 2017
Hall 1: CO2 laser cutters, CNC routers: an entire hall (in other words, more than at any other expo in the world (probably 100X more than at DRUPA).
Hall 2: the Chinese Hall had more flatbed cutters; several booths FILLED with different sizes and shapes of laminators; and endless booths of wide-format and desktop-sized UV printers, solvent printers, and textile printers. Many brands are new: companies which did not exhibit in previous years.
Hall 3: the International Hall: AGFA, dilli, Durst, efi VUTEk, Epson, Mimaki, Roland , and Mutoh. Lots of Chinese brands of large-format printers: JHF, Gongzheng, Handtop, Teckwin, and lots of other brands. Several brands I have never noticed before: Yameike, Yotta and more.
Lots of flatbed cutters: iECHO, JWEI and more.
Ink companies: Jetbest, Sam Ink, Sun Chemical (SunJet DIC), and many more.
Many booths of printable materials: HEYtex, a.berger and dozens of Chinese brands.
Hall 4 has miles of booths of inks and printable substrates.
Hall 5 and Hall 6: signage, everything from LCD, LED to traditional signage.
North Hall (at north entrance). This is now a full hall. Last year was mostly textile printers but now has everything: as filled with printers as Hall 2 and 3.
What is new? This is the question we are asked the most often. Once the expo opens tomorrow, we will be visiting an ink booth which may have a remarkable new ink.
---
You may notice from this photo that FLAAR is growing
Posted July 22, 2016
Since we provide all staff flexible working hours, it is rare for 100% of the FLAAR teams to be present at any one time. But today was the birthday celebration for three different employees, so at least 90% of the teams were here at one time.
You can see the Q'eqchi' and Kakchiquel Mayan student interns and the multitude of university students who work at FLAAR.
We have several teams: digital imaging printing, and flora and fauna. The flora and fauna is in two joint teams: studying plants and animals and doing storyboards and illustrations for educational comic books on endangered species of Guatemala. Our web sites on plants, animals, and how to do high res photography are read by about 600,000+ people.
The digital imaging team does marketing and technology research on UV-curing printers, textile inks, textile printers and textile printing workflow, cutters, laminators, color management, RIP and other software and hardware. The FLAAR web sites on these topics are read by over half a million people around the world (different people than read the plants and animals web sites).
So altogether, our entire coverage of research is read by over a million people.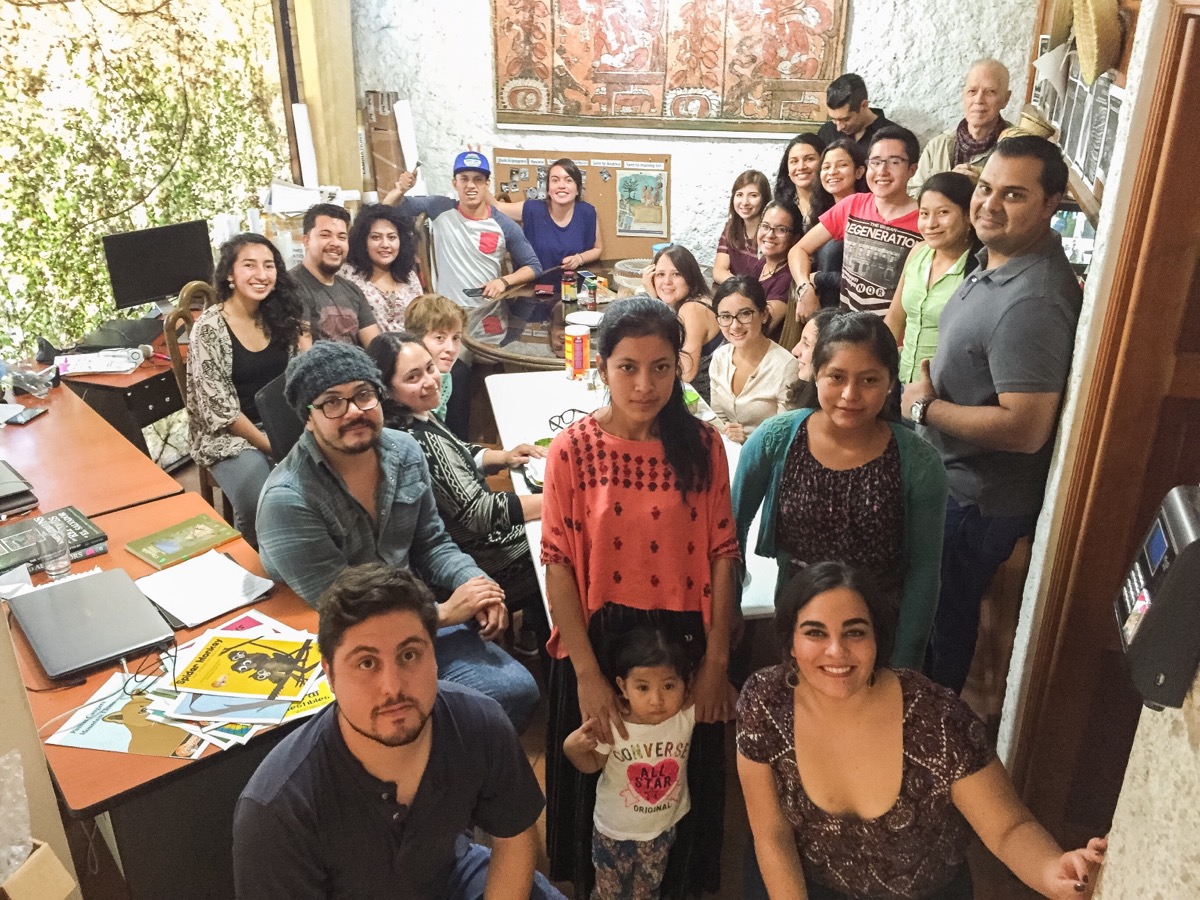 ---
New FLAAR Reports on 3D digital imaging of Mayan house architecture
Posted January 7, 2016
Ten of us, in two 4WD double-cabin pickup trucks, did a field trip deep into the remotest parts of the jungle-covered mountains of Guatemala, Central America, to test methods to render Mayan thatch-roofed houses in 3-dimensional imaging. We used a drone and drone pilot, and university students who are studying digital imaging and biology.

This week, two of us are in Dubai to study wide-format inkjet printing and signage technology. We will be testing which inkjet printers and toner printers can best produce high-resolution photographs of these Mayan houses, plus which printers can best show high-resolution digital photographs of rare Neotropical flowers and jaguars.
---
ITMA 2015 textile extravaganza in Milano, Italia
Posted October, 2015
ITMA is the largest and by far best textile expo in Europe. There is nothing comparable in North America. Two of us will fly to ITMA after SGIA.
If you can't get to ITMA we will have lots of FLAAR Reports on textile printers and textile inks. If you order these reports in advance there is a 10% discount: e-mail FrontDesk "at" FLAAR.org.
---
SGIA printer, signage, and dye sublimation trade show
Posted October, 2015
We attend three printer expos every year in USA: GOA (Graphics of the Americas) because it is in friendly South Miami Beach, because it is the first expo in North America of every year, and because every year we are asked to lecture both in English and in Spanish.
Next we attend ISA, since this is a traditional classic for printers and signage and graphics in USA (ironically we have never attended any trade show in Canada, but unsure if one has a lecture program that we would fit into perhaps).
We skip Graph Expo and "Print" because it is too small; has almost no media or substrate exhibitors, and is mostly what little remains of offset and flexo (so not enough signage and not enough wide-format inkjet). However Graph Expo is still good if you need to look at toner printers, office printing, mailing, binding, etc. and what is left of offset.
Every year without fail we attend SGIA. Whereas all other USA expos have either gone downhill (Graph Expo) or not expanded dramatically at all, in distinction SGIA has grown every year. Being in crime ridden and uninspiring Atlanta (with overpriced hotels) may cause some people to think twice, but we are nonetheless sending three people (we send four to ISA since hotels are more reasonable cost in Orlando and Las Vegas).
SGIA is especially good to attend for dye sublimation and textile printers. So we hope to see you there at SGIA 2016.
---
Dr. Nicholas gives two lectures in Antigua Guatemala
Posted October 2015
In the 17th century Spanish colonial former capital of this part of Central America, Dr Hellmuth gave a lecture last Friday on water lily (Nymphaea alba) ethnobotany, iconography, and cosmology, based on his PhD dissertation of the 1980's.
Now, the coming Friday (Oct 30th), Nicholas will lecture on jaguars, tapirs, crocodiles, herons, sea anemones, turtles, sharks, and stingrays: creatures associated with river, lake, and ocean scenes in Mayan murals, stone sculpture, or decorated funerary vases, plates, and bowls. These lectures are organized by Fundacion La Ruta Maya.
After this lecture Nicholas and two others from the wide-format inkjet printer, inks, and printable substrates division of FLAAR will fly to SGIA in USA and then two will continue to ITMA in Italy.
---
Sign Istanbul, a good place to learn about wide-format inkjet
Updated September 24, 2015
There was so much to see at the recent Sign Istanbul that in addition to all four days of the expo, we were already taking notes the day before the expo opened (the last set-up day, when booths are still being constructed).
Lots of printers of all types: UV, eco-solvent, textile, latex, and water-based, plus SUV (solvent UV, one of my favorite inks).
We are now preparing our FLAAR Reports on everything that we learned, including on the co-located 3D PRINTSHOW which was in Hall 11.
---
APPPEXPO, the giant printer and signage expo, opened March 11th in Shanghai
Posted February 2, 2015
Last year there were more UV-cured printer brands and models at APPPEXPO than at all printer expos in Europe and North America combined.
There were more brands of media and printable substrates than every other printer in the world put together.
Hmmm, maybe this is why six of us will flew to Shanghai to attend this four-day expo, March 11-14.
Plus there were solvent printers, water-based printers, cutters, laminators and coaters. And LED and LCD dynamic digital signage (more than every expo in USA and more than any and every signage and printer expo in all of Europe).
Print shop owners and distributors, if they miss this APPPEXPO 2015, then their competitors (who attend) get a head start.
www.apppexpo.com/lang/en is where you can learn more.
All of us in the industry know this as APPPEXPO, but it is also called Shanghai Int'l Ad & Sign Expo, now co-located with the Shanghai Int'l Lighting Expo.
---
SGI (Sign Middle East) is first international signage expo for 2015
Updated January 2, 2015. First posted December 19, 2014
Three of us from FLAAR Reports will flew to beautiful Dubai in early January to attend two co-located events: a best-signage awards event and signage conference (organized by www.enthralogy.me) and the 11, 12, 13 January SGI Dubai 2015 event (organized by IEC and shown on their www.SignMiddleEast.com).
Dubai is friendly, peaceful, architecturally impressive, and worth visiting (especially if your partner likes to shop; Dubai has more and larger shopping malls than most other cities).
FLAAR has been attending this expo for many years and we look forward to 2015.
In addition to Dr Nicholas, two other evaluators-review editors from FLAAR will attend: Pablo Martinez (inks, media, substrates, cutters) and Maria Renee Ayau (textile inks, printers, RIP software, workflow equipment; T-shirt printers, inks, toner).
If you wish to meet Dr Nicholas plus the staff, consulting opportunities are available, but please reserve in advance by writing FrontDesk "at" FLAAR.org.
---
Lots more reviews of digital imaging equipment to come in 2015
Posted January 2, 2015
Over a million people around the world know the FLAAR Reports on wide-format inkjet printers, inks, media & substrates, and printer/signage expos. But we also evaluate digital cameras, on our www.digital-photography.org.

At printer expos manufacturers and distributors showcase their wide-format printers, but half the time the photos they are printing are inadequate. We at FLAAR are available as photography consultants: Dr Nicholas' photos have been published by National Geographic and by Japanese coffee-table book publishers.

Plus there is an additional FLAAR team which studies Neotropical plants and animals of Guatemala and the rest of Mesoamerica. If you are interested in flowers or birds or jaguars, you will enjoy our www.maya-ethnozoology.org and www.maya-ethnobotany.org.
We raise bees, wasps, butterflies, spiders, and tailless whip-scorpions inside or directly in front of our FLAAR headquarters building at 1500 meters above sea level in Central America.

Our ethnobotanical garden around our office and inside also is a research garden on utilitarian plants of the Maya civilization.
---